After the release of Legacy, we got together a new engineer and design team and spent 2 years perfecting each detail.
The result is the meticulously crafted and carefully curated
Legacy PRO.
Updated heating tech (still, super fast)
Hybrid heating for best flavor and performance
Industry leading in material use
Whether ceramic, glass, hemp textile, vegan leather or 24K gold, the Legacy has it all.
Easy to clean pack
Another exciting improvement is funnel around the chamber and no tiny parts - only one easy to change larger screen
Herb to wax, beginner to pro
The only vape you'll ever need.
Steampunk aesthetic brilliance
The exquisite combination of a worn brass finish, Aegean blue textile, and rich brown leather creates a visually stunning exterior that belies the advanced technology within.
SPECS
Used for Loose-leaf and Oil Concentrates
Vibration signal
Heat-up Time: 15 Seconds to Optimal Vaping Temp
Two-button precise temperature control ↑↓ from 212F to 464F
Ceramic Mouthpiece
Removable glass AirPath
Gold plated heating Chamber + Gold Plated Airpath disk
Measurements: 119 mm x 52 mm x 21
Materials: Hemp-based textile, Vegan leather, Black ceramic, 24K gold plating, Glass
IN THE BOX
AirVape Legacy PRO + 18650/3200 mAh Legacy PRO Removable Battery
Concentrates Pad Insert
USB-C Charger Cable
Cleaning, Loading Tools
Replacement Filter Screens
Elevate your Vaping experience
with these Accessories
Add to
cart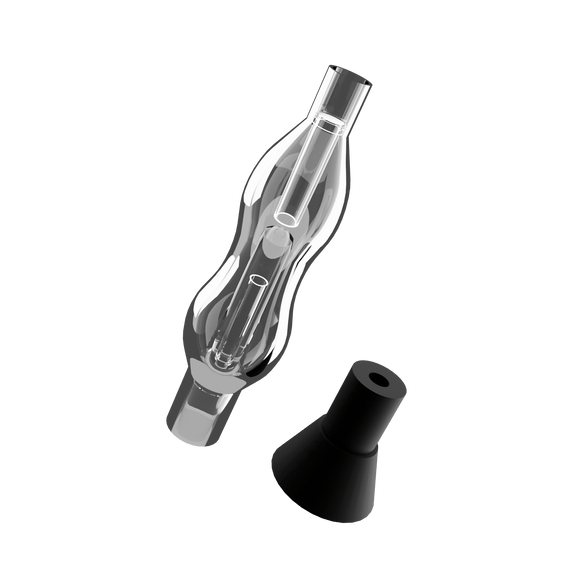 Water Bubbler+adapter for
Legacy PRO and X
Smell Proof Bum Bag
Legacy Battery Replacement